Blog

One of ARCCA's premier experts, Shawn Harrington, BSESM, will be presenting at the IASIU Annual Meeting to be held Sept. 10-12 at the Sheraton Hotel in New Orleans.  While he's there, he'd be pleased to meet you to discuss how he can help with your next case.
His presentation covers Vehicle Systems Forensics, which is an exciting new technology that can be used to reconstruct accidents and fight fraud, including suspect stolen vehicle losses, arson investigations and more.  It offers a new look into the actions of vehicle performance & driver interaction with the digital world inside a vehicle. Vehicle infotainment and telematics systems store vast amounts of data such as recent destinations, SMS messages, call logs, favorite locations, contact lists, emails, pictures, audio, social media feeds and, if equipped, navigation histories. Many systems can even store when/where a vehicle's lights were turned on, when/where a door was opened/closed, when/where Bluetooth devices were disconnected, and odometer readings with date and time histories.
"Vehicle Infotainment & Telematic Systems – The Cutting Edge Source of Vehicle and Occupant Data"
Monday, Sept. 11, 2017
2:50pm to 4:30pm
Shawn is the Director of Accident Reconstruction at ARCCA and earned a Bachelor of Science degree with Honors in Engineering Science and Mechanics from the Pennsylvania State University. He is accredited as a Traffic Accident Reconstructionist, has a Commercial Driver's License (CDL), and operates and inspects Heavy Trucks. In addition, he is certified to retrieve Event Data ("Black Box" info) in both commercial and passenger vehicles. He is also certified to acquire and analyze data from Vehicle Infotainment and Telematics systems and specializes in documenting evidence utilizing 3-D laser scanning. In addition, he consults with the National Hockey League as an investigator on an R&D program to evaluate player safety within the sport.
Dave Tocci and Matt Orcutt from our Business Development team will be joining Shawn at IASIU. Simply email them if you would like to set up a time to meet – sharrington@arcca.com  (Shawn), dtocci@arcca.com (Dave) or morcutt@arcca.com (Matt).
ARCCA Accident Reconstruction Expert Bill Brem answers that question in his latest article, which appears in the Summer issue of SIU Today Magazine.  When claim losses just don't add up, an accident reconstructionist can help determine whether any damages claimed could have actually occurred as reported or whether they are staged.
Bill provides a case study example and photos in his article, detailing how he discovered a fraudulent claim in one of his recent investigations.
To read the full article, CLICK HERE.
WILLIAM BREM, AS, ACTAR is an ACTAR-certified Accident Reconstructionist at ARCCA, where he analyzes a variety of collision situations and claims relating to staged accidents, insurance fraud claims, motorcycle/pedestrian accidents, traffic violation assessments, police report and procedure analysis, speed analysis, visibility studies, perception/reaction time, and vehicle dynamics. He also has extensive knowledge of CDR (airbag) downloads.
If so, you won't want to miss the article by Alan Cantor and Lou D'Aulerio of ARCCA which appears in the June 2017 issue of CLM Magazine concerning the Takata airbag recall. In this article, they discuss the issues involved with the recall and the implications, from an insurance perspective, when evaluating individual incidents.
To read this important article, CLICK HERE.
ALAN CANTOR, BSAE, is the CEO of ARCCA and is a premier expert in vehicular crashes, as well as the research, testing and development of occupant seating systems, restraint systems and crash protection devices. He has been called upon by the US Congress and other organizations to offer opinions regarding occupant protection and has been involved in numerous design and study efforts on these issues for NHTSA, the US Navy, US Army and NASA.
LOUIS D'AULERIO, BAP, is also a premier expert in occupant crash protection in both air and ground vehicles. He specializes in seat belts, airbags and seating systems for adults and children. Prior to joining ARCCA, Lou was a lead engineer for the US Navy's development of their Naval Aircrew Common Ejection Seat which is still used today in combat aircraft.
Since the beginning of the 20th century, glass has found many uses in construction, from windows, to facades, to load-bearing structures.  In all applications, construction defects can result from the use of glass.  In an article just published in the Spring/Summer issue of NASP's Subrogator Magazine, Dr. James Mason of ARCCA, talks about the most common glass defects and why you need an expert with specific knowledge of glass when investigating construction defect cases or claims.
Click here to read the full article.
JAMES J. MASON, PhD, P.E. is a Senior Engineer at ARCCA specializing in glass construction defects, the fracture and fatigue of metals, plastics and welds, the mechanical failure of consumer and industrial products/equipment, and machinery design/failure, as well as metallurgical laboratory analyses and fractography.  He is also experienced in failed consumer medical devices, such as orthopedic implants and plastics.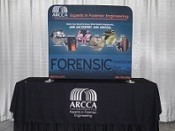 Pennsylvania Defense Institute Annual Meeting
July 12-14 – Bedford Springs Resort, Bedford Springs, PA
Stop by our Booth
Dr. Andy Rentschler's presents on "Biomechanical Modeling" at
8:45am to 10:00am on July 14th
CLM Upstate New York Chapter Event
July 12 – USS Little Rock, Buffalo, NY
Sponsor
Washington Defense Trial Lawyers Annual Meeting
July 13-16 – The Westin, Whistler, British Columbia
Stop by our Booth
AAJ Annual Meeting
July 22-25 – Hynes Convention Center, Boston, MA
Stop by our Booth #306 
WCI – Workers Compensation Conference
August 6-9 – Orlando World Center Marriott, Orlando, FL
Sponsor
CLM Seattle Chapter Event
August 24 – McMenamins Anderson School, Bothell, WA
Sponsor